Dining Adventures in the Cape
11/21/2011
The cuisine of South Africa celebrates and fuses the vastly different cultural influences of Europe, Asia and Africa into a unique and delicious dining experience. Specialties include bobotie, boerewors, local fresh seafood and wild game. The Cape Winelands produces some of the finest wines in the world. The following hotels are renowned for their award-winning restaurants. Sample their innovative menus and wine lists during your next journey to the "fairest cape."
Cape Town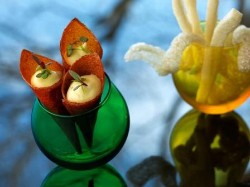 Mount Nelson - The Planet: Perfectly complementing the surreal crystal-studded ambiance of the dining room, Chef Rudi Liebenberg has created an out-of-this-world menu featuring smoked crocodile, Namibian red crab, Rooibos cured ostrich and springbok.


The Cellars-Hohenort - The Greenhouse: This award winning restaurant showcases Peter Tempelhoff's acclaimed 'Progressive South African' cuisine. The menu evolves and reinvents past classics resulting in dishes that surprise and leave a lasting impression.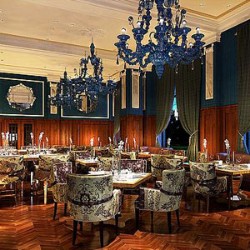 The Taj Hotel - Bombay Brasserie: South Africa's historic Reserve Bank has been restored to house the Bombay Brasserie. The elegant decor and authentic Indian cuisine creates a formal and exotic culinary experience.

The One & Only: The One & Only is offering Wine & Dine evenings throughout 2011-12 where small groups (up to 30 people) can enjoy wine and food pairings with renowned sommelier Luvo Ntezo, Chef Reuben Riffel and a chosen wine maker. Please contact us if you would like to check availability and make a reservation.
Cape Winelands
Grande Roche - Bosman's Restaurant:The Grande Roche is set amidst ancient grape vines with a breathtaking view of the Drakenstein Mountains. The "silver service" restaurant offers a gourmet experience and an award-winning wine list (open in the evenings only).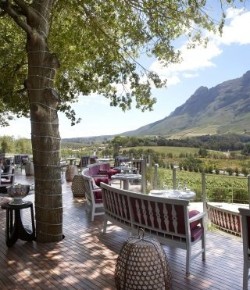 Delaire Graff Restaurant: This fine boutique restaurant enjoys breathtaking views over the Stellenbosch Valley. Chef Christiaan Campbell has created accessible and approachable fine cuisine with fresh and robust flavors. The signature dishes include: pickled beetroot carpaccio with goat's cheese fritters; crayfish lasagna with king oyster mushrooms; pistachio nougat served with rose geranium ice cream.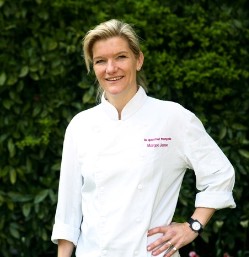 Le Quartier Francais - The Tasting Room:The serious business of fine dining at Le Quartier (Franschhoek) has been set apart and defined by The Tasting Room, showcased by Chef Margot Janse and her team. Try the four-course, six-course and eight-course gourmand menu, with or without matching wines. Janse has been voted South Africa's best chef and the restaurant rated in the top 50 restaurants in the world for four consecutive years.
La Petite Ferme Restaurant: Lunches at La Petite Ferme Restaurant are legendary. The restaurant has been listed by Conde Nast Traveller as one of the top 15 'Best Value' establishments in the world. It has also been honored in Wine Magazine's top 100 restaurants over six consecutive years. The kitchen bursts with creative energy in producing its rustic contemporary cuisine.
---
11/20/2011
Sighting of the Quarter: Snow in Namibia!
«
previous
11/22/2011
Please Note....
next
»
Let us help you plan your dream safari. call toll-free: 888.227.8311

or

email us

today

|

|

Share