Activities Outside the Box
11/27/2010
A village tour is now offered from Vumbura Plains, Little Vumbura or Duba Plains Camps in the Okavango Delta, Botswana. Travelling by helicopter on a 15-minute scenic flight guests visit Gunotsoga, a small community with a population of about 750. The economic base of the village is subsistence farming and fishing, but it has recently initiated a Community Development Fund whereby 20% of the revenue generated from the tours will be invested in community projects. Guests will be met upon arrival by the village chief, tour the primary school and health clinic and visit the ironmonger to learn how various tools and implements are forged. The roughly 3-hour trip is intended to promote understanding of contemporary rural Setswana life and culture.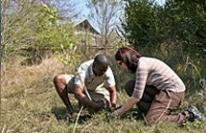 At Toka Leya Camp near Victoria Falls, Zambia, 'back-of-camp' visits provide insight into the methods used to minimize the camp's environmental footprint. Guests are shown the vermiculture project (worm farm bins used to recycle the organic waste from the camp kitchen), the waste-water treatment plant, and the use of solar energy. Guests can also assist with planting an indigenous tree as part of the landscape rehabilitation project.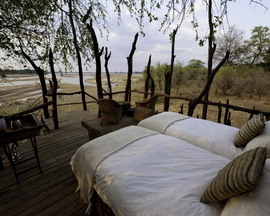 Kalamu Star Beds, in the South Luangwa National Park, Zambia, continue to be a popular option for guests staying at Kalamu Lagoon Camp. The experience was recently voted one of the "top five camping spots in the world," by Highlife, British Airways' in-flight magazine. As the article stated, "These scenic sites do away with the tent completely - instead, comfy beds are set on raised timber with nothing but a mosquito net between you and the stars."
---
11/26/2010
Pierre's 2010 African Adventure
«
previous
11/28/2010
Interactive Cuisine at North Island
next
»
Let us help you plan your dream safari. call toll-free: 888.227.8311

or

email us

today

|

|

Share