Sable Research Project at Vumbura Plains
8/4/2010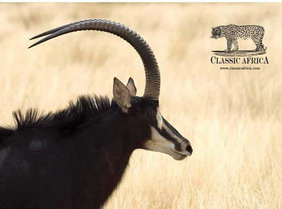 While safari connoisseurs may debate which is Africa's most majestic antelope species - the sable or the kudu - there is no question as to which is more threatened: the sable antelope Hippotragus niger has shown a dramatic decline over its home range in recent years, to the point where it is classified as Conservation Dependent by the IUCN. Very little is known about the reasons behind the precipitous decline and, being a relatively low profile species, the plight of the sable has gone largely unnoticed. As such, Classic Africa is delighted to support a research project in Botswana's Okavango Delta that has set out to further the conservation of these regal creatures.

The study is being conducted on the Kwedi concession, a prime habitat area that is home to a (currently) healthy sable population. The objectives are to determine what aspects of the Kwedi area allow the sable to thrive, and to further the understanding of this species, particularly with regard to home range and habitat utilization, thereby contributing to its sustainable management.

To this end, GPS collars have been deployed onto three sable herds so that researchers can evaluate their movements in relation to preferred food sources, water, habitat, competing herbivores and predator densities. One interesting early discovery is that sable (classified purely as grazers) rely far more heavily on browsing than previously realized, particularly during the dry season. Stay tuned for updates as the project continues into another field season.

Classic Africa travelers to Vumbura Plains Camp and Little Vumbura Camp will have the opportunity to meet the research team, learn more about the Sable Project and view the magnificent animals in situ. Please let us know in advance of travel if you would like to take advantage of this option.

---
8/4/2010
Peak Season 2010 - Travel Incentives
«
previous
Let us help you plan your dream safari. call toll-free: 888.227.8311

or

email us

today

|

|

Share