Cape Town - the "Mother City" Shines
12/1/2009
General Impressions
While moving around Cape Town (by vehicle and on foot), I was struck by the many signs of urban regeneration. Perhaps the most conspicuous and impressive is the new stadium at Green Point, an appropriately world-class venue to host the Soccer World Cup. But of more interest to most international visitors will be the infrastructure upgrades (e.g. the shiny new airport terminals), renovations and new construction in the "city bowl" (downtown) area, and the improved sense of safety in key parts of the city.
Cape Town's train station, formerly an eye-sore in the heart of the city, is receiving a multi-million dollar revamp, the first phase of which was already complete by the time of my visit, resulting in a significant aesthetic improvement. One of the city's historic landmarks, Greenmarket Square, is also receiving a significant facelift, that will include the installation of CCTV cameras and additional pedestrian lighting; construction work was still underway at the time of my visit, but the portion that had been completed looked great. Numerous other projects (both private and public) are nearing completion, including extensive new retail and residential developments, upgrades to pedestrian areas, and a host of new hotels. Altogether, an estimated US$2 billion will be invested in and around Cape Town by the June 2010 kickoff of the World Cup.
The nett result, from a visitors perspective, is that Cape Town is a safer and more visitor-friendly city than ever before. I had the opportunity to walk around the city bowl area quite extensively, including a meander through the Company Gardens and down St. George's Mall. I had dinner one evening at Jardine (on Bree Street), and enjoyed a 20 minute stroll back to my hotel after dinner - I was careful to stick to Long and Kloof Streets (two busy thoroughfares), and didn't at any point feel uneasy. One minor daytime incident served as a reminder that the improvements are not consistent throughout the city, that visitors need to check before walking anywhere, and that one needs to remain alert and aware, even in the "new" Cape Town - while walking along Hout Street (a few blocks from the core tourist areas) I was approached by a rather determined beggar who wouldn't take no for an answer. I didn't feel threatened, and was eventually able to shake him - it was less a safety risk than an awkward situation and a reminder that Cape Town remains a city in a developing country.
The Victoria and Alfred Waterfront was busier than ever, frequented by visitors and locals alike, attracted by the many high quality restaurants, entertainment venues, and upmarket shops. This is the one part of Cape Town where, day or night, one can essentially walk around without any real safety concerns. The Waterfront itself has been the recipient of some major investment, not least of which are the extensive refurbishments at the Cape Grace Hotel and the very impressive new One & Only Hotel.
Hotels
During the course of my stay in Cape Town I had the opportunity to visit 10 hotels - some new, some newly refurbished. Although it is somewhat of a generalization, and doesn't cover all of the city's many hotels, we consider three main location options for visitors to Cape Town. Below are some of the hotels that stood out during my visit.
1) Waterfront Hotels
The Victoria and Alfred Waterfront remains the prime location in Cape Town, with the highest concentration of world class hotels and restaurants, a wide selection of shops and boutiques, and the safest and most convenient environment in the city.
The Cape Grace Hotel recently underwent an extensive refurbishment that has significantly enhanced the hotel's sense of place in Cape Town and South Africa. Local artists and artisans were hired to refashion everything from the carpets to the bed linen, with themes that reflect the history, culture, and natural beauty of the "Mother City" (each room has its own unique decor and design). One thing that hasn't changed is the hotel's incredible service. The general manager was in the lobby meeting with guests at least once a day, ready to answer questions and offer assistance. The front office staff are placed at tables conveniently spread across the lobby, making themselves highly accessible to offer guests a wide range of services: from making dinner reservations to arranging transportation (the free chauffeur service within a 10km radius of the hotel is a very convenient perk) to looking up driving directions. I never had to queue or wait to be helped and, by day two of my stay, the staff were addressing me by name. The service was warm and friendly, but very professional. I also appreciated the relative informality of the hotel. I always travel light on my trips, and end up wearing safari clothes most of the time (including in the cities). My outfit didn't raise any eyebrows at the Cape Grace and it was clear from snippets of conversation that I picked up in the common areas that most other guests at the hotel were also traveling on safari. The enthusiasm, hospitality, and warmth of the staff make the Cape Grace feel like a home away from home.
The One & Only is probably the physically most impressive hotel in South Africa in terms of its facilities and amenities, as well as the layout and structure of the hotel. As one walks through the perfumed entrance and steps into the lobby (named Vista for the huge glass windows that frame Table Mountain in the background), the hotel makes a bold statement of grandeur. Some of the hotel facilities include a 2,000 square foot fitness center, a 3,700 square foot heated outdoor swimming pool, a spectacular glass and steel wine "loft" featuring over 5,000 bottles of wine, two international restaurants, and an extensive spa facility with 12 treatment rooms, a hair salon, two vitality pools, sauna, steam rooms, etc. The hotel and its facilities spread, resort style, across landscaped islands in the canal system of the Victoria and Alfred Waterfront. The size, scale, and concept of the One & Only are truly extraordinary for a city hotel. In keeping with the sophisticated international ambience, the hotel is also quite formal (my safari outfit did attract some critical glances from staff and guests alike). While the temptation exists to compare this hotel to the Cape Grace, hitherto unrivalled as Cape Town's best hotel, I think that they are two completely different offerings: the One & Only is a large, international resort hotel, whereas the Cape Grace is a smaller South African boutique hotel, clearly grounded in Cape Town. The Cape Grace can't match the facilities at the One & Only, while the latter couldn't approach the personalized service at its smaller counterpart. My sense is that most travelers will have little difficulty deciding which of the two hotels will match their preferences and tastes. As for personal preferences - my taste leans more towards the Cape Grace, but I certainly wouldn't discourage any travelers from Cape Town's newest gem.
Other excellent hotels on the Waterfront that I didn't visit on this trip, but that we frequently recommend include the Victoria and Alfred Hotel, and the Table Bay.
2) City Bowl Hotels
Being in the city bowl (downtown area) has a number of potential attractions. Firstly, provided that safety precautions are followed, one is within daytime walking distance of many of Cape Town's historic landmarks. Many of Cape Town's hippest and most trendy restaurants are also located in the city bowl, and one is more likely to encounter "average" Cape Townians (as opposed to the somewhat more affluent locals who tend to frequent the Waterfront). Finally, the area around Long Street is Cape Town's "party central" and, provided that safety precautions are followed, this can be an ideal location for those seeking to sample Cape Town's nightlife.
Welgelegen Guest House is, as the name translates, very "well located" on a cul-de-sac, just a couple of hundred feet from Kloof Street. This boutique hotel offers unpretentious but very comfortable accommodation in two historic Victorian buildings, with an interesting blend of antique and African chic furnishings. Friendly, efficient service is a hallmark, while the small, well manicured gardens reflect a sense of tranquility and calm that belie the hotel's central location
Cape Cadogan is very similar to Welgelegen, only it is a little further down Kloof Street (closer to Long Street). The buildings are also historic (declared a National Monument in 1984), and the decor is a little more Bohemian (said to draw inspiration from the life of Oscar Wilde). The nearby Apartments offer perhaps the best family accommodation in the city bowl.
Urban Chic is a small, contemporary hotel on Long Street that is somewhat groundbreaking in the South African context - the closest parallel that I could draw was to the Hotel Mela where we sometimes stay in New York. The six story hotel has just 20 rooms (which were more spacious than I had anticipated), a breakfast room/cafe, and a bar/cigar lounge. The location on Long Street guarantees immediate access to Cape Town's "party district". This could be an interesting hotel choice for younger travelers who want to be close to the action.
Other excellent city bowl hotels that I didn't visit on this trip, but which we recommend frequently, include Kensington Place and the Cape Heritage Hotel.
3) Atlantic Seaboard Hotels
At the opposite end of the spectrum, for those wanting to be away from the hustle and bustle of city life, there are a couple of hotels along the Atlantic Seaboard that offer seclusion, and focus on the incredible natural beauty of the Cape Peninsula.
Although the Twelve Apostles Hotel is only 20 minutes from the Waterfront and City Bowl, it feels as though it could be half a world away. The hotel enjoys a position of perfect seclusion, with no other buildings in sight, and takes full advantage of the spectacular ocean and mountain views, to the front and rear respectively. The hotel's in-house restaurant, Azure, offers "indigenous" and "international" options, with the possibility of outside dining on the deck. The creative Sanctuary Spa features a range of facilities and treatments. A regular shuttle service takes guests to and from the Victoria and Alfred Waterfront. In all, the Twelve Apostles strikes a very nice balance between the beauty and serenity of the Atlantic Seaboard, and reasonably convenient access to Cape Town.
Tintswalo Atlantic takes the sense of seclusion and ocean focus one step further. Less hotel and more "beach lodge", this property is located on a private concession at the base of Chapman's Park, within the Cape Mountain Fynbos Reserve. With just twelve individual suites and one family suite, all located right on the water's edge, the sense of privacy is pretty much unrivalled in Cape Town. Guests who don't relish the prospect of the 30 minute drive into Cape Town for dinner can choose to dine at the hotel (which features a state of the art "interactive" kitchen and top notch chef), or in the nearby fishing town of Hout Bay. The intimacy of the hotel and the beauty of the setting make this a pretty idyllic location for a romantic getaway.
Restaurants
I spent three nights in Cape Town, and enjoyed three very different dinner experiences. While categorizing restaurants represents an oversimplification of the city's highly diverse culinary landscape, it does provide a handle by which travelers can think about the many choices confronting them.
1) Fine dining
My choice for fine dining this year was the new Signal Restaurant at the Cape Grace Hotel. In terms of the overall experience, this was my most enjoyable dinner. I started with aperitifs at Bascule, which specializes in single malt Scotch whisky. Having sampled both a Lowland and Highland single malt, I made my way upstairs to the restaurant and enjoyed an excellent two course meal, complemented by appropriate wines. The restaurant offers a fairly extensive menu of wines by the glass, and a professional sommelier is on hand to help select vintages to complement your meal choices. For starters I had paté of smoked snoek (a local fish), melba toast, and apricot chutney, pared with Raats chenin blanc 2007. For main course I enjoyed grilled springbuck loin, sautéed spinach, spicy potato samosas, date and tamarind chutney, and curried jus. This was very nicely complemented by Bouchard Finlayson's Hannibal 2007.
The atmosphere and style of cooking were both quite formal (hence the "fine dining" categorization), but the service is friendly and unpretentious. The sommelier is a fun feature that enables patrons to make the most of the Cape's outstanding food and wine combinations. While not quite an "African" restaurant as such, Signal makes extensive use of local ingredients and concepts (such as spices and chutneys), resulting in excellent food that is grounded in South African traditions - this type of cuisine is not to everyone's taste (some find it a little too sweet), but Signal is perhaps the most sophisticated exemplar of South African food in Cape Town.
2) Contemporary
For my last night in Cape Town (a Thursday) I wanted to try something a little "hipper" and more trendy - a "contemporary" restaurant. Based on advice from several local colleagues and friends, I settled on Jardine . The restaurant is housed in a sensitively restored historic building on Bree Street, just a couple of blocks from Long Street. Due to a very early start next morning, I made an earlier reservation than we would normally recommend at a "contemporary" restaurant (7pm), and the restaurant was quiet when I arrived. By the time I left it was packed with locals, and buzzing. The downstairs bar is cozy, while the upstairs dining area is simple with a decidedly minimalist style of decor. The focal point is the food preparation area, where George Jardine and his team of chefs work their magic, in full view of diners. As the meal progressed, it was clear that George and his team (right down to the wait staff) take food seriously, and the rather puritanical setting is part of a strategy to avoid distractions and focus attention on the culinary experience. Selected wines are available by the glass, and I was again able to nicely pare food and wine choices. For starters I enjoyed marinated porcini with white asparagus and gremolata, paired with Raats Original Chenin Blanc 2008. The bread, baked in Jardine's own bakery, was noteworthy. My main course selection was butter roasted line fish (Kabeljou, another local fish) with zucchini, bell pepper piperade and potato gnocchi; the recommended wine was a Lammershoek Roulette Blanc 2007.
The food at Jardine was outstanding, the service delivered with pride, and the ambience (at least by the time I left) was vibrant. This restaurant is perhaps targeted at the somewhat more serious "foodie", and those seeking a balance between cuisine and interesting decor may find Jardine somewhat weighted towards the former. The preponderance of local patrons is always an indication of consistent quality in a restaurant, and there can be little question that Jardine is firmly established as a culinary hotspot in Cape Town.
3) African
I was warned before my dining experience at Gold that there would be no locals at this restaurant. Fair enough, like most of Cape Town's other "African" culinary establishments, the restaurant is targeted at foreign visitors but, as long as expectations are in line with the offering, it can be a fun evening of food and entertainment. Gold serves what they refer to as an "African food safari" comprising 12 "tasting" courses covering a wide spectrum of traditional South African dishes. The food is fine, and the wine about equivalent. The entertainment is probably a little better - starting at 6pm with an interactive drumming session, and carrying on throughout the meal with regular performances by Mali dancers and puppets. At the end of the evening, the friendly staff wish patrons a safe onward journey, in song.
Gold would not be a great restaurant choice for a connoisseur of exquisite food looking to sample Cape Town's finest cuisine. But, for an evening of African food, music, and dance, it can be a fun and entertaining choice; the overall experience might be particularly appealing for families with children.
Activities
My time in Cape Town was fairly limited and, having experienced most of the Western Cape's highlights over the years, our brief time in Cape Town tends to be focused on staying up to date with hotels developments. I had hoped to do some whale watching, but this was scuttled by heavy seas. I did have an opportunity to walk around some of the historic areas in downtown Cape Town, and to drive along the newly re-opened Chapman's Peak Drive during the course of doing hotel inspections. It's been a few years since I had the privilege of driving this spectacular coastal road, and I marveled anew at the heart-stopping beauty of this raw stretch of the Cape Peninsula.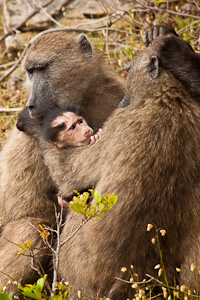 I was able to spend a very enjoyable couple of hours with the indigenous Chacma baboons that live along the Cape Peninsula. As is so often the case in peri-urban environments around the world, conflict exists between the baboons, the original inhabitants of the area, and residents for whom the baboons represent a nuisance and, in extreme instances, a threat. Baboon Matters is a not for profit organization that offers walking excursions to view and learn about the baboons, with the proceeds being used to pay for full time monitors who track the baboons, look out for their safety, and attempt to keep them away from residential areas.
During the course of my excursion we were able to view the baboons at close quarters (still keeping a respectful distance), and observe their behavior as they went about their daily ritual of foraging and maintaining a complex social structure within the troop. The excursion was educational, and afforded some outstanding opportunities to photograph these charismatic creatures. I thoroughly enjoyed the time spent with the baboons, and left with the impression that this is a worthy addition to a Cape Peninsula tour for any travelers with an interest in primates and/or the dynamic of human-animal conflict.
Some Thoughts in Passing
As mentioned at the outset, massive investment and urban regeneration programs in anticipation of the Soccer World Cup have significantly improved Cape Town as a destination for international travelers. Cape Town has long been considered one of the World's great travel destinations, and the upgrades have made the city an even more attractive proposition for foreign visitors
I was struck by how many European languages I heard spoken as I walked through the historic and trendy parts of downtown. Cape Town has long been a favorite winter getaway for Europeans, and it seems that the global economic downturn has done little to deter them from traveling in large numbers to this beautiful city.
Upward of 90% of our clients will include a visit to Cape Town in their itineraries, something that we encourage. It is unquestionably one of the major highlights of southern Africa, with the natural beauty that surrounds the city being perhaps the main draw card. But the overall combination of spectacular scenic beauty, great food and wine, interesting history, and a vibrant, multi-cultural environment makes the full "package" a virtual must-see for the first time visitor to southern Africa.
---
12/1/2009
New Travel Incentives for 2010
«
previous
12/1/2009
Rock Art and Relaxation in the Cederberg Mountains
next
»
Let us help you plan your dream safari. call toll-free: 888.227.8311

or

email us

today

|

|

Share