San Rock Art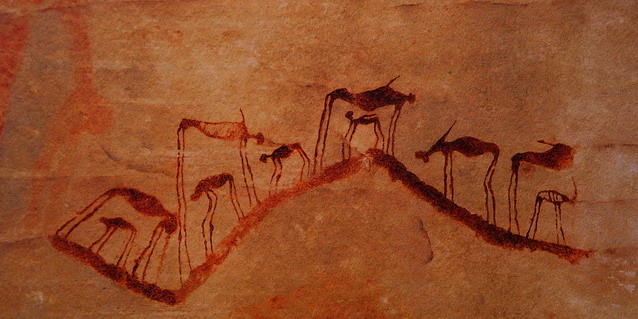 The eerily beautiful rock art of southern Africa was the work of the very earliest of the San groups, known as the /Xam (pronounced "tsum"). For more than 100,000 years, the /Xum were the sole and exclusive inhabitants of southern Africa - they shared the subcontinent with no other races or cultures of Homo sapiens, and were more perfectly adapted to their environment than any other race of mankind probably ever will be. Current paleo-anthropological evidence suggests that these were in fact the very first specimens of Homo sapiens, and that their descendants migrated first northwards and then east and west to occupy the rest of the globe. Left at peace in their exclusive southern African domain, the /Xam built their extensive astronomical and environmental knowledge into a complex belief structure, from which evolved their hauntingly beautiful rock art.
The /Xum used a variety of pigments, minerals, and animal and plant materials to produce the rich colors that characterize their art. The art comprises symbols of supernatural potency, metaphors of trance experience, and hallucinations experienced by people in trance. It is not simply a narrative of stone-age life, it is deeply symbolic and mythical, and provides us with wonderful insight into the belief system of these ancient people.
The /Xum are now extinct. All we know about them has been pieced together from meager records of the last survivors, taken by European explorers and missionaries in the 19th Century, from ethnographic parallels with their surviving cousins in the Kalahari (the !Kung and Khwe peoples), and from archaeological evidence. The beauty and significance of their rock art is, perhaps ironically, made all the more poignant by the tragic demise of these, our earliest ancestors, and there is much that we can learn from their ability to survive for 118,000 years in complete ecological harmony with their environment.
Standing just feet from an ancient rock face covered with delicate, ethereal figures of humans, animals, and mythical creatures, it is impossible not to be filled with a sense of humility and wonder - a pilgrimage to one of southern Africa's ancient rock art sites is certainly one of the most unforgettable experiences that the region has to offer. The best destinations for seeing and experiencing the rock art of the /Xum are in the Cederberg Mountains, the Drakensberg Mountains, and some camps in the Damaraland region of Namibia. The !Kung and Khwe can be encountered at a handful of camps in Botswana's Kalahari semi-desert.
Let us help you plan your dream safari. call toll-free: 888.227.8311

or

email us

today

|

|

Share