Marine Life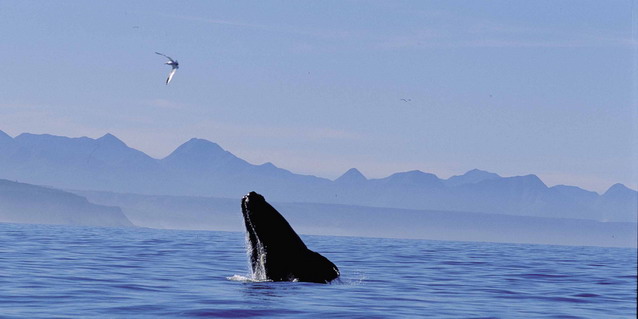 All six species of whale which occur in the southern hemisphere have been recorded off the Cape coast, and three of these are regular visitors: the Southern right, the Humpback, and Bryde's whales. Of these, the biggest and most spectacular is the Southern right whale. These gentle giants (weighing an average 60 tons), spend six months of the year in the waters of Antarctica, feeding on planktonic copepods (tiny crustaceans) to build blubber reserves. For the six months spent breeding in the waters off South Africa's coast, they barely feed, living almost entirely off these accumulated reserves of fat.
Southern right whales frequent some of the most beautiful and unspoiled bays in southern Africa, such as Walker Bay on the "Whale Coast" and Plettenberg Bay along the "Garden Route", where they can be observed at close quarters, often from the shore. They are easily recognized by their playful habit of 'breaching', and their characteristic V-shaped blow.
Five species of penguin visit the Cape Peninsula. Of these, only the African Black-Footed Penguin is a permanent resident, being endemic to South Africa's west coast. They waddle around like gentlemen in tuxedos on many of Cape Town's favorite beaches (Boulders Beach being perhaps the best place for close encounters).
Four species of dolphin also play along the shoreline of Southern Africa, and can be observed along both the east and west coasts. Huge colonies of Cape Fur Seals, some numbering in the tens of thousands, inhabit the icy Atlantic waters along the Skeleton Coast.
South Africa's east coast is also one of the last remaining breeding grounds for four of the world's seven species of sea turtles, which come to the beaches of Maputaland every year to lay their eggs. The largest (and one of the most endangered) species of turtle, the giant Leatherback, is unique in not having a shell. Instead, this enormous animal (which weighs up to 800 pounds) is covered by a carapace made up of hundreds of irregular bony plates, covered with a leathery skin. They visit South Africa's eastern coast to lay eggs between November and March, returning to the same protected beaches year after year.
Let us help you plan your dream safari. call toll-free: 888.227.8311

or

email us

today

|

|

Share