Floral Diversity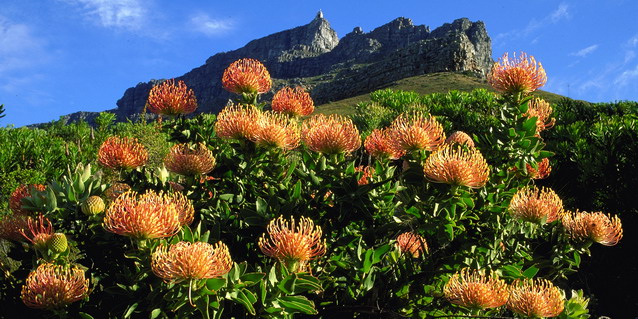 Southern Africa is host to one of the greatest botanical phenomena on Earth: the Cape Floral Kingdom (or Fynbos). Fynbos is almost exclusively restricted to the western Cape of South Africa, and is comprised of over 8,600 flowering plants - by far the richest of the world's six floral kingdoms.
What makes fynbos so special is that so many species of plant exist within such a small area. This concentration of diversity is unparalleled anywhere on Earth - Table Mountain alone is home to over 1,470 different species of plant, the equivalent of the entire United Kingdom! The closest rival to fynbos' incredible diversity is the Amazon jungle, but even this pales by comparison: there are 12 different species of fynbos per 100 square kilometers, as opposed to 4 different species per 100 square kilometers in the Amazon.
Apart from Fynbos, the region also boasts thousands of other fascinating species of plants and trees. Plants such as the desert-adapted Welwitschia mirabilis which can live to be over 2,000 years old, and trees such as the giant baobab which can reach up to 5,000 years in age, and the beautiful leadwood tree whose wood is so dense that it sinks in water.
Let us help you plan your dream safari. call toll-free: 888.227.8311

or

email us

today

|

|

Share