Bantu Tribes of Southern Africa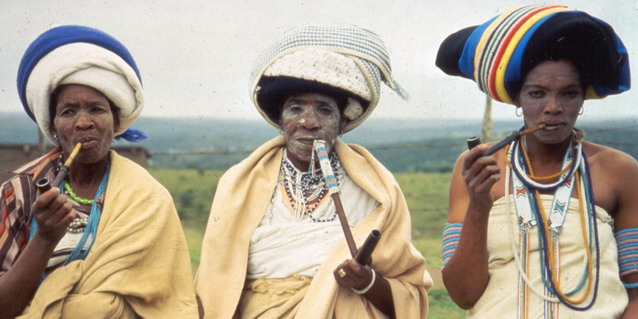 The Bantu-speaking people of southern Africa are believed to have migrated into the region roughly 2,000 years ago from western and central Africa. Their iron-age weaponry and pastoralist way of life enabled them to dominate and displace the original inhabitants of the region, the stone-age hunter-foragers collectively known as the Khoisan.
One of the first major civilizations in southern Africa was the vast and mysterious kingdom of Great Zimbabwe, which flourished between the 12th and 15th centuries. The impressive ruins of this once thriving city (an important World Heritage Site) represent the largest stone structure in Africa south of Egypt's pyramids, and will astound visitors with their sheer scale and grandeur. Although it is clear that this was a great African civilization, researchers understand very little about its origins and decline, and not much at all about the people who lived here - no human remains have ever been found in close proximity to Great Zimbabwe. This sense of mystery lends the immense ruined city a very romantic air, and one can't help but speculate, while wandering through this fascinating complex, if only the great stone walls could speak, what secrets they could tell!
With the inexplicable demise of Great Zimbabwe in the 15th Century, the interior of southern Africa entered a relatively quiet phase until the early 19th Century when the illegitimate son of a minor chieftain sparked a revolution that was dramatically to change the course of southern Africa's history. Through a variety of military and social reforms, and a good dose of brutal efficiency, Shaka Zulu molded an empire out of a loose grouping of Nguni tribes who lived in the north-eastern corner of South Africa. His armies went on to conquer large swathes of territory across Southern Africa, his generals were to found whole nations: the Shangaan of Mpumalanga province in South Africa, and the Ndebele of eastern Zimbabwe were both off-shoots of the Zulu people. Under two subsequent warrior kings, Dingaan and Cetswayo, the Zulus were to wage various wars against both Boer and Brit, and were to take part in some of the most important battles ever to be fought on African soil. At Isandlwana they were to subject the British Army to the most crushing defeat that the much vaunted "red coats" were ever to suffer in any of Britain's colonies. The Zulus in the 21st Century remain a significant political force, and the largest cultural group in South Africa. Their bastion lies in the Drakensberg Mountains of South Africa's KwaZulu-Natal Province.
Today there are numerous tribes of Bantu-speaking people across southern Africa - Zambia alone recognizes 72 distinct tribal groupings. They follow ancestral practices and beliefs to varying degrees, with villagers in more remote, rural areas typically leading more traditional lifestyles. Unquestionably, the nomadic Himba people of Namibia are the most traditional cultural group in southern Africa, and the opportunity to meet and interact with these desert nomads at a handful of camps in the Kaokaveld can be a highlight of a Namibian safari. Some wildlife safari areas in southern Africa also offer the opportunity for travelers to visit local villages for insight into rural African culture, Zambia's South Luangwa Park and Zimbabwe's Hwange Park being two prominent examples. Similarly, many visitors to the Zambian side of Victoria Falls will have the opportunity to visit a local Tonga village, while several lodges around South Africa's Kruger Park and Madikwe Reserve offer village visits as an activity.
While the majority of southern Africa's Bantu-speaking people still live in rural settings, a growing proportion of the region's population is urbanized, providing visitors to the region with an entirely different array of enriching cultural opportunities. South Africa's major cities and their surrounding "townships" are at the cutting edge of contemporary African culture, hosting an incredible diversity of tribal groups from across the continent, each of which has added their own traditions and customs to South Africa's already rich tapestry. Soweto, just outside Johannesburg, is the most famous of South Africa's townships, but visitors to Cape Town have equally convenient access to the urban African cultural experience in townships around that beautiful city. Although unaccompanied trips into Soweto and other townships are not advisable, sensitive and insightful tours can be arranged providing for a truly memorable encounter with the proud inhabitants of these dynamic communities.
Let us help you plan your dream safari. call toll-free: 888.227.8311

or

email us

today

|

|

Share