Kapinga Camp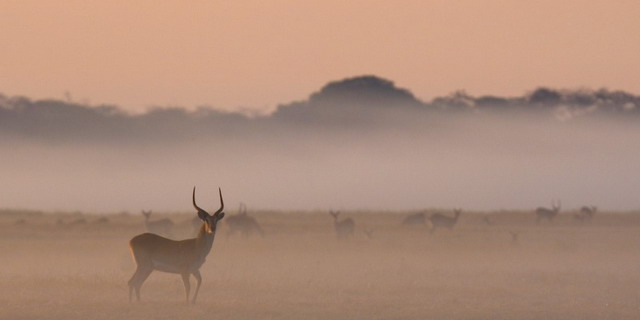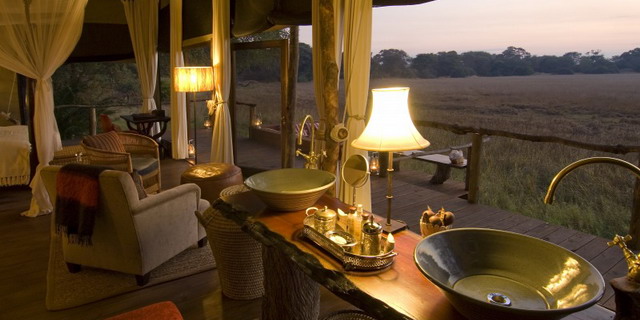 Kapinga is a small and intimate camp nestled in a forest on a large island in the middle of the vast Busanga Plains. This is a remote and pristine area in the extreme north of Kafue National Park, best accessed by helicopter, and offering an unforgettable combination of scenic beauty and bountiful wildlife.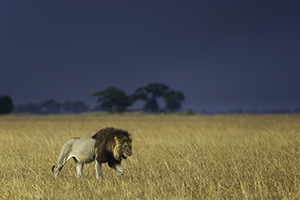 The habitat of the Busanga Plains is characterized by open grass floodplains, with interspersed palm 'islands', and is very reminiscent of Botswana's Okavango Delta. During the rainy season, the plains fill up with flood water from the Lufupa River and become inaccessible. As the dry season progresses, the floods pull back, leaving first a mini delta and then wide open grass plains. Large herds of lechwe and puku antelope, as well as seemingly endless flocks of birds, are ubiquitous and, with Kapinga Camp's uninterrupted view of the plains, guests can enjoy spectacular game-viewing without even leaving the comfort of their private deck.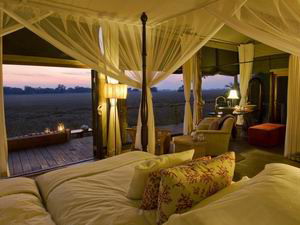 This exclusive camp consists of only four tented rooms, each individually and beautifully decorated. Classic romantic styling abounds, with mahogany bedsteads, white linens, heavy muslin drapery, whicker elements and hand woven textiles. An artfully crafted outdoor shower is indulgent, yet provides an element of adventure reminiscent of the safaris of yesteryear.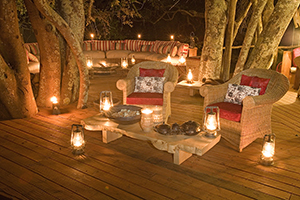 The communal area at Kapinga is comprised of an extensive wooden deck with a fireplace, a plunge pool set under a shady tree, and a sitting area decorated in traditional colonial fashion with oriental rugs, cowhide ottomans and African artifacts. Dining under the stars is an intimate yet dramatic affair with Victorian balloon back chairs surrounding a pedestal table, topped with white porcelain and silver candelabra casting a warm glow.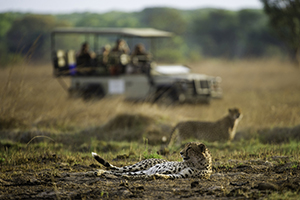 The open grasslands of the Busanga Plains make an ideal habitat for grazers, and the area supports high concentrations of plains game. In addition to the ever present puku and lechwe, large herds of Cape buffalo, zebra, and wildebeest congregate on the plains as the dry season progresses. These herds in turn sustain a strong population of predators, and the Busanga Plains area offers fantastic opportunities for lion and cheetah viewing. With 390 recorded avian species, including several that are rare and/or endemic, Busanga Plains is also a birding paradise. Activities at Kapinga Camp focus on this abundance of wildlife, and guests spend most of their time on game-drive in open safari vehicles with experienced professional guides; both daytime and night-time drives are conducted. Walking is also offered.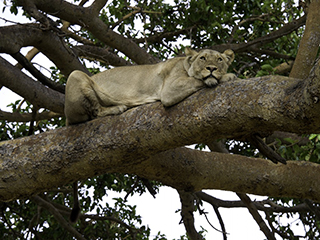 An interesting, and very rare phenomenon of this area is the tree-climbing habit of the lions. Theories abound to account for this very uncharacteristic behavior (which is virtually unique to the lions of the Busanga Plains) but it is a phenomenon that is poorly understood. Guests traveling from late September to November have the greatest likelihood of seeing the spectacle of large adult lions high in the branches of trees. Rarities abound on the Busanga Plains. Packs of the endangered African wild dog often den in the area, attracted by the abundance of prey. Other species not commonly found elsewhere include Lichtenstein's hartebeest, roan antelope, Defassa waterbuck and oribi.
Conservation Dimension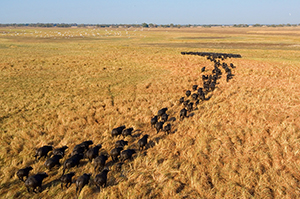 Due to the vast and inaccessible nature of the Park, and the very limited resources of the Zambian Wildlife Authority (ZAWA), Kafue has historically been one Zambia's most heavily poached National Park's. With the arrival of Wilderness Safaris in 2005, the situation changed dramatically. Literally millions of US Dollars have been invested by Wilderness as well as international donor organizations to improve infrastructure and provide ZAWA and local communities with the resources (and incentive) to end the poaching. Helicopters now patrol Kafue during the rainy season, coordinating with game scouts (many of whom are former poachers) on the ground. It is no exaggeration to say that the conservation efforts underway in Kafue are some of the most exciting in southern Africa, and the potential of this huge Park as a haven for Africa's embattled wildlife (and a world class safari destination) is almost boundless.
For more information about Kapinga Camp call toll-free: 888.227.8311
or

email us

for Information


|

|

Share