The Camera Thief - adapted from the account of Mombo Camp manager Graham Simmonds
11/1/2017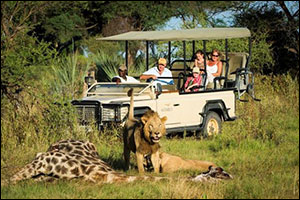 Graham had purchased a brand new camera during a trip to New York City and was in the process of learning its functions when he and another Mombo manager decided to embark on a quiet afternoon drive to Goss' Floodplain. The Moporota lion pride (17 individuals at this time) had fortuitously come across a dead giraffe and were still sleeping and feasting next to the carcass.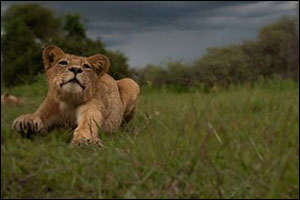 The serenity of the sighting emboldened Graham to attach his new wide-angle lens, use the mini tripod as a stand and attach the Wi-Fi remote, slowly lowering the camera over the side of the car to capture a low level shot of the youngster feasting with the beautiful African sunset as the backdrop.
As he reversed the vehicle to get the right angle he noticed that one young lion was no longer feasting on the giraffe and was standing very square-shouldered, belly drooping to the floor, panting and staring down at the camera.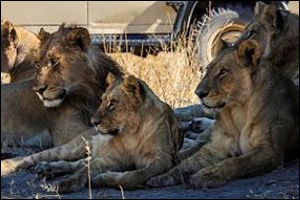 Graham started the vehicle, a familiar sound for the lions, hoping the noise might snap the cub out of its fixation with the camera. On the contrary, the sound of the engine spurred her curiosity and with a swift movement she plucked the camera from the ground and started walking away with it. Graham followed the cub with the vehicle and she started to run from lioness to lioness, proudly showing them her "prize"!
Plenty of options were racing through Graham's head, but there were none that involved exiting the vehicle to chase the only surviving cub of the litter amongst 16 lions! The chase continued and the cub, having run away from all the females, finally realized it was outside the ring of prone bodies and vulnerable to predators. She then dropped the camera and trotted back to her mother. Graham raced up to the camera, glanced around to make sure there were no lions nearby, opened his door a few inches and quickly lifted his remarkably undamaged camera to safety.
Unfortunately, even though the camera did take some pics in the melee, they were all extreme close-ups of grass, as the camera was pointing downwards in the little one's mouth. Her brother was recently spotted removing one of the fire extinguishers near camp.
---
11/1/2017
Vegans in Johannesburg
«
previous
11/1/2017
Award Winners
next
»
Let us help you plan your dream safari. call toll-free: 888.227.8311

or

email us

today

|

|

Share