Mfuwe Lodge Elephants go "Viral"
7/1/2009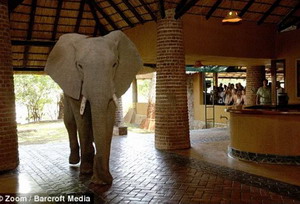 If the number of e-mails that we have received from clients is any indication, the elephants that pass through Mfuwe Lodge in Zambia's South Luangwa National Park are perhaps the most famous pachyderms on the internet. The lodge happens to have been built next to a mango grove that a family of elephants visits annually when the fruit ripens each November. Despite the structure in their path, the elephants simply stroll through the open lobby to reach their beloved grove of trees. They remain for four to six weeks to gorge on the mangos, making themselves at home in the lodge.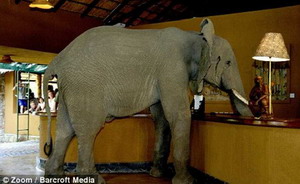 Andy Hogg, the lodge director, has lived in South Luangwa National Park since 1982, but has never seen such intimate interaction between humans and wild animals. He reports no negative incidents so far as safty precautions are carefully observed. "The elephants get reasonably close to the staff, as you can see in the pictures of the elephants near the reception area," Andy explains. "But we do not allow the guests to get that close." "Guests can stand in the lounge but only as long as there is a barrier between them and the animals," he added. "The elephants are not aggressive but you wouldn't want to tempt them. It is the elephant's choice to be here and they have been coming here for the last ten years. There are other wild mango trees around, but they prefer ours."
---
7/1/2009
Sighting of the Quarter: Lunar Rainbow over Victoria Falls
«
previous
7/1/2009
Don't Miss Lions & Leopards: A Multi-media Exhibition by Dereck and Beverly Joubert in Washington, D.C.
next
»
Let us help you plan your dream safari. call toll-free: 888.227.8311

or

email us

today

|

|

Share