Have you "herd"?
5/10/2014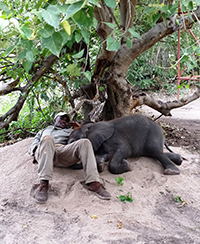 We are pleased to report that Naledi, the elephant calf born on November 27th, 2013, to Kitimetse at Abu Camp in the Okavango Delta of Botswana (Classic Africa News Volume 4, 2013) is growing and thriving despite the unfortunate death of her mother Kitimetse.
After giving birth, Kitimetse's large intestine herniated into the reproductive tract. Experts were air-lifted into Abu to assess this rare condition, but the prognosis was poor. Kitimetse was euthanized on January 11th to prevent further pain and distress.

The suddenly-orphaned calf presented another urgent situation at Abu. Initially, it was hoped that Naledi could be nursed by either Shirini or Cathy, adult females who were both lactating. However, neither of them was able to provide enough milk for the baby elephant. The decision was made to move Naledi to a safe and comfortable space at a research station away from the herd, where her elephant handlers could provide care and attention around the clock.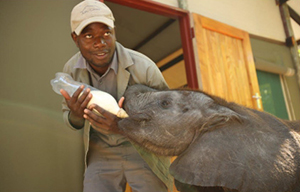 "Naledi is doing great. She is strong and very energetic," reports camp management. It seems that Naledi is preparing herself to become one of the Abu herd in the not-too-distant future – surprising her minders with her determination during a walk in the bushveld. "Yesterday morning we walked Naledi across to the research station…. with Naledi walking very strongly the entire way. When we got to the water crossing she did not even bat an eyelid, she just continued straight through. Just after crossing the water, we encountered a pack of seventeen wild dogs who watched us in complete amazement at the procession of humans and an elephant calf…. We stopped for a short break whilst Naledi had some milk before continuing to the research station. Upon arrival, Naledi investigated her new surrounds before polishing off some more milk and then settling down to a nice hour long nap under the shade of a fever berry."
---
Let us help you plan your dream safari. call toll-free: 888.227.8311

or

email us

today

|

|

Share