Happy Birthday Jack's Camp
2/6/2014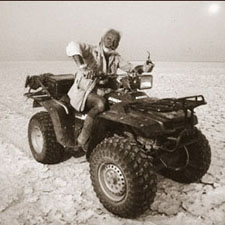 August marked the 20th anniversary of Jack's Camp located in the Makgadikagadi salt pans, Botswana. This iconic camp was founded in 1993 by Catherine Raphaely and Ralph Bousfield in memory of Ralph's father, the legendary Jack Bousfield, who infamously declared in 1963: "Makgadikagadi? I asked what was out there and they said nothing - only idiots go there. I thought fine, that's the place for me."
Ralph and Catherine's creation was built on the site of Jack's original safari camp from the 1960's - the place from where Jack and Ralph explored "the greatest expanse of nothingness on earth" until Jack's tragic death in 1992. Despite the camp's humble and challenging beginnings guests will now find a stylish, elegant and comfortable oasis within the stark and rugged wilderness.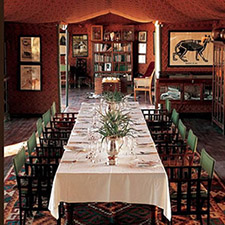 During his time on the pans Jack collected cultural artifacts and curiosities relating to nature and the history of the area, which are now on display in the camp's dining tent. Due to the fact that many of the items found are of national and international cultural significance, the tent has been declared an official museum!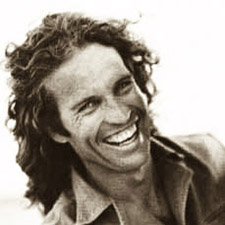 The camp's focus was (and is) on the safari experience, delivered through high caliber old-style guiding, and a warm family feeling of hospitality, without compromising style and luxury. According to Ralph, the success of Jack's Camp wholly rests with the team of people who have been involved over the years - 'a motley crew of misfits' who through dedication, enthusiasm and a love for the area have made it what it is today."
---
2/6/2014
Sighting of the Quarter: Following Terrace Male
«
previous
Let us help you plan your dream safari. call toll-free: 888.227.8311

or

email us

today

|

|

Share