"Africa Rocks...."
11/30/2010
Rock Art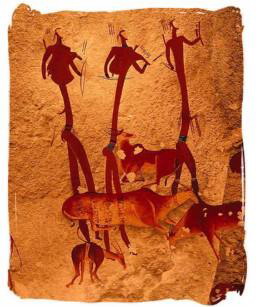 The San, Bushmen, Basarwa, !Kung or Khwe are the longest-term indigenous inhabitants of southern Africa. The name 'bushmen', or in Dutch, Boschjesmans, was first used as early as 1652 by Dutch settlers to describe the hunter-gatherers they met when they arrived at South Africa's Cape. The San boast the longest continuing art tradition in the world, stretching back approximately 27,000 years. Their well-preserved rock paintings can be viewed in areas across South Africa and Botswana.
Bushman's Kloof (Western Cape, South Africa) is an exclusive and private Relais et Châteaux lodge nestled at the foothills of the Cederberg mountains. With over 130 San rock art sites, this Natural Heritage area represents one of the most densely painted rock art collections in South Africa. Trained guides conduct daily rock-art walks with analytical interpretations that provide insight into these rare archaeological sites.
Cleopatra Mountain Farmhouse (KwaZulu-Natal, South Africa) is a 5-star gourmet get-a-way nestled in the heart of the Drakensberg Mountains. Guests have the opportunity to tour exceptionally preserved rock art sites at Kamberg (Little Berg) and Giants Castle (Big Berg), which date back over 3,000 years.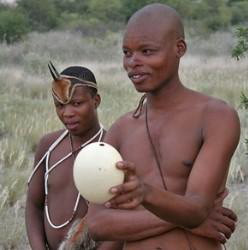 Pafuri Camp (Kruger Park, South Africa) is a luxurious retreat located in the northern sector of the Kruger National Park, one of the park's most diverse and scenically attractive areas. Specialist safaris introduce guests to San rock paintings dating from approximately 2,000 years ago, concentrated along the Luvuvhu River.
The Kalahari Bushman Safari (Kalahari Desert, Botswana) departing from Jack's Camp, transports guests deep into the ancestral gathering lands of the Zu/'hoasi Bushmen to learn about their cultural mores and traditions. The area, which was inhabited by ancestors of the present day San for nearly 35,000 years, contains roughly 2,750 individual outline-style paintings at over 200 sites.
Rocktail Turtles Return
The 15th of October marks the official start of "Turtle Season" at Rocktail Beach Camp in KwaZulu Natal, South Africa. Every summer, hundreds of Loggerhead and Leatherback turtles (weighing up to 350 pounds and 1500 pounds respectively) complete their breeding cycle and emerge from the Indian Ocean to lay their eggs on this stretch of coastline - most returning to the exact beach on which they themselves hatched! Guests visiting Rocktail Beach Camp from now until February/March can assist researchers patrolling the beach at night in search of nesting turtles to tag for research and conservation.
Discovering "Stone Town"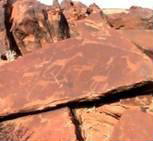 Damaraland Camp (Damaraland, Namibia) offers far more than the "ordinary" game drive experience for guests seeking adventure and exploration. Attractions include several petroglyph (rock-engraving) sites, petrified forests and other geological wonders, as well as the recently discovered "Stone Town," site of an ancient Stone Age dwelling with stone tools and rock engravings in situ.
---
11/29/2010
Your Vote Made a Difference
«
previous
Let us help you plan your dream safari. call toll-free: 888.227.8311

or

email us

today

|

|

Share