Recipe of the Quarter: Amarula and Chocolate-Covered Strawberries
7/28/2010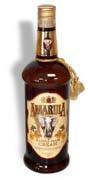 Most every visitor to southern Africa has enjoyed the creamy goodness of Amarula Liquor, used throughout the region in desserts and for sipping around the fire as a digestif. Amarula is made with sugar, cream and the fruit of the African marula tree (Sclerocarya birrea) which is also locally called the Elephant tree. Lore has it that elephants enjoy eating the marula tree's fermented fruits and become "drunk" from them. Because of this association, the distiller has made elephants its symbol and has co-founded the Amarula Elephant Research Program at the University of Natal, Durban. Amarula can be found state-side at package stores throughout the country.
Ingredients
1 12-ounce package of semisweet chocolate chips

3/4 cup half and half cream

1 to 2 tablespoons Amarula

60 large, fresh strawberries, rinsed and patted dry with stems left intact
Method
In the top of a double boiler, over hot water, slowly melt chocolate.
Add cream, stirring until smooth.
Remove from heat and blend Amarula until completely mixed into chocolate.
Hold each berry by stem, swirl in chocolate to partially cover.
Place on waxed paper-lined cookie sheet.
Place in refrigerator until chocolate is set.
Transfer fruit onto a serving platter.
Serve with glasses of chilled Amarula. Cheers!
---
7/28/2010
Sighting of the Quarter: Pangolin at Kalahari Plains Camp, Botswana
«
previous
7/28/2010
Photography Forum
next
»
Let us help you plan your dream safari. call toll-free: 888.227.8311

or

email us

today

|

|

Share