Rock Art and Relaxation in the Cederberg Mountains
12/1/2009
Bushman's Kloof has matured significantly over the past few years. From a rough diamond that was a hidden gem, this property has really polished its offerings to the point where it now offers a truly world class, intellectually stimulating, and rejuvenating experience as reflected in the various awards and honors that the property received in 2009 (including Best Hotel in the World 2009 by Travel and Leisure, and Global Winner of Wildlife Conservation Programs in the prestigious Condé Nast Traveler World Savers Awards).
One of the most significant additions at Bushman's Kloof is the employment of a full time archaeologist and curator who is studiously documenting and cataloging the 130+ rock art sites on the reserve. This treasure trove of ancient pictographs is reputedly the largest collection on privately owned land in the world, and Bushman's Kloof is taking significant steps to preserve and honor the mystical and enchanting heritage that falls under its stewardship, while simultaneously enhancing the extent to which guests can experience and be engaged by the spiritual symbolism of a lost culture.
For more than 100,000 years, the /Xam (pronounced "tsum") were the sole and exclusive inhabitants of southern Africa - they shared the subcontinent with no other races or cultures of Homo sapiens, and were more perfectly adapted to their environment than any other race of mankind probably ever will be. Current paleo-anthropological evidence suggests that these were in fact the very first specimens of Homo sapiens, and that their descendents migrated first northwards and then east and west to occupy the rest of the globe. Left at peace in their exclusive southern African domain, the /Xam built their extensive astronomical and environmental knowledge into a complex belief structure, from which evolved their hauntingly beautiful rock art.
Roughly 2,000 years ago, migrants from the north started moving in, and the world that the /Xam had known and understood since the dawn of mankind began to fall apart. First came the Khoenkhoen (also known as Khoi-Khoi), then followed the Nguni tribes, both of whom were agriculturists and herders. The /Xam were able to survive the arrival of these technologically more advanced newcomers, but only by retreating to remote mountainous regions in the south-west and east of South Africa. Their final death knell came with the permanent arrival of European settlers in the 17th Century, whose notions of private land ownership were diametrically at odds with the hunter-gatherer lifestyle of the /Xam. By the end of the 19th Century, the /Xam were essentially extinct.
Since nobody is around any more to explain the symbolism of /Xam rock art, our understanding is left to the constantly evolving and advancing interpretation of experts. They draw not only on the rock art itself, but from the accounts of early European explorer-adventurers, some of whom documented their interactions with the few remaining /Xam, and also from clues that are provided by the !Kung and Khwe people of the Kalahari - themselves not rock artists, but distant cousins of the /Xam who are assumed to share some cultural beliefs and practices. Guides, researchers, and guests at Bushman's Kloof have access to a further, invaluable resource in the form of the Heritage Center, home to the famous Rudner Collection of Bushman artifacts (including jewelry, dancing sticks, hunting kits, and musical instruments). The Heritage Center is an appropriate venue for the regular presentations made by guides and researchers on subjects ranging from the San to the fauna and flora of the Cederberg Mountains.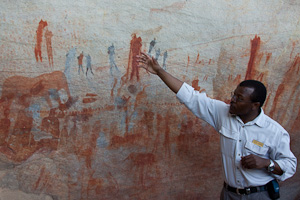 Standing just feet from an ancient rock face covered with delicate, ethereal figures of humans, animals, and mythical creatures, it is impossible not to be filled with a sense of humility, awe, and wonder. A lot of research has been done on the rock art at Bushman's Kloof over the past five years, and a much richer understanding has been developed. The guides themselves are also much better versed in the most up to date interpretations of the symbolism, and in their ability to breath life into the pictographs. Compared with other rock art sites around southern Africa, Bushman's Kloof is head and shoulders above the competition in the extent to which guests are exposed to and engaged in the beauty and meaning of the art.
The significance of the sites themselves is also starting to receive international recognition, and Bushman's Kloof is currently working to put together a team of multi-national, multi-disciplinary researchers to further advance the understanding of this invaluable collection of ancient images.
While rockart is unquestionably the highlight at Bushman's Kloof, there are several other strings to its bow. The unique Western Cape fauna includes several specialized species, such as Cape mountain zebra, bontebok, springbuck, and eland that travelers are unlikely to encounter elsewhere in the course of a safari. Researchers have documented 755 species of plant on the Reserve, including the world-renowned Rooibos, and Bushman's Kloof is an ideal location for viewing the famous flowering of the Namaqualand daisies (annually in August and September).
Relaxation and romance have always been notable features of the Bushman's Kloof experience. Already well established as a haven of luxury and pampering, the lodge will be significantly upgrading its spa facilities in 2010 to include six treatment rooms, a steam chamber, and a heated outdoor jet pool. New spa treatments and revitalizing therapies are being introduced, and nutritional options scientifically designed to offer a wellness experience that is deeply rooted in nature, and draws upon the herbal remedies that were so integral to the San's existence. Food is a central focus at Bushman's Kloof, and the lodge prides itself on a wide range of panoramic dining venues such that, weather permitting, guests are likely to enjoy dinner in a different, spectacular location every evening. Finally, because of the absence of large, dangerous game on the Reserve, guests at Bushman's Kloof are free to take full and flexible advantage of the beauty of the area, and the more active can enjoy hiking, mountain biking, and canoeing without the necessity of being accompanied by a guide.
Travelers, and especially honeymooners, frequently approach us requesting a third destination in southern Africa to complement Cape Town and safari - somewhere relaxing and pampering, where they can "chill out" and just relax for a few days either at the start or end of an itinerary. Typically they have a beach destination in mind. We always try to explain that, while the Indian Ocean off southern Africa's east coast does feature some great beach destinations (and one or two truly remarkable ones), these are typically time consuming and expensive to access. And, what's more, Americans are spoiled with some of the world's best beach destination within easy striking distance of both coasts; southern Africa is a long way to travel to experience something that is often quite similar to what you can get much closer to home. The Cederberg Mountains and Bushman's Kloof, on the other hand, represent a quintessentially southern African experience that is simultaneously deeply moving, relaxing, and rejuvenating. And just three hours by vehicle from Cape Town. Judging by the growing list of international accolades that this property is receiving, it seems that our message is slowly but surely reaching an increasingly receptive audience.
---
12/1/2009
Cape Town - the "Mother City" Shines
«
previous
12/1/2009
Some Thoughts on Safari Photography
next
»
Let us help you plan your dream safari. call toll-free: 888.227.8311

or

email us

today

|

|

Share