Great Wilderness Journey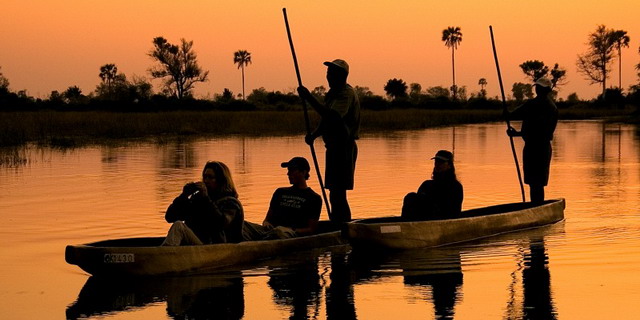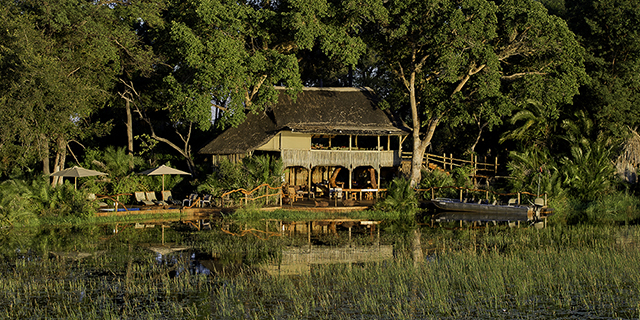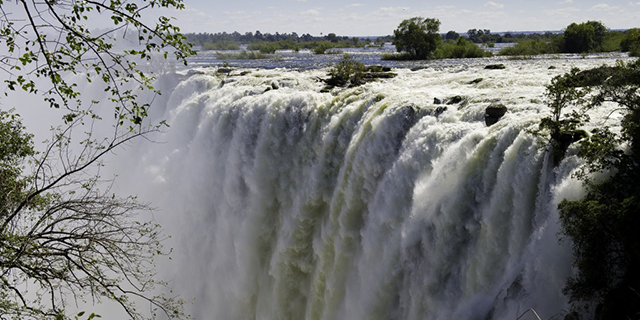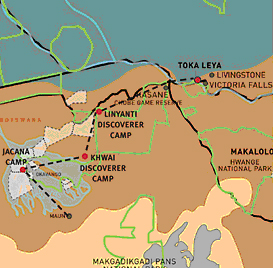 This is the most exclusive "overland" safari in Botswana. It features transportation by light charter aircraft (dotted lines on map) to facilitate access to some of the most remote and game-rich areas of Northern Botswana. Accommodation consists of permanent tented camps in the Okavango Delta and Victoria Falls, and pre-erected tented camps in the Okavango Delta and Chobe/Linyanti Ecosystem. All tents have en-suite private facilities and real beds, with the relative luxury of the permanent tented camps complementing the 'old world' simplicity of the Discoverer campsites.
A unique feature of The Great Wilderness Journey is that it is conducted almost entirely on private concessions (far from the 'beaten path' of other overland safaris), in superb game-viewing country where night drives and off-road driving are permitted. Guests are limited to eight, and a professional guide and camp assistants accompany the safari from start to finish.
Day 1: Victoria Falls (Toka Leya Camp)
After arrival in Livingstone you will be met by a representative and transferred directly for a guided tour of the Victoria Falls, one of the Seven Natural Wonders of the World. At over a mile wide and 350 feet deep, it is the largest sheet of falling water on earth. Following your tour of the Falls you will be transferred to Toka Leya Camp, a luxurious tented camp located under a shady grove of trees on the banks of the Zambezi River, within the Mosi-oa-Tunya National Park.
Days 2, 3, & 4: Linyanti Reserve (Linyanti Discoverer Camp)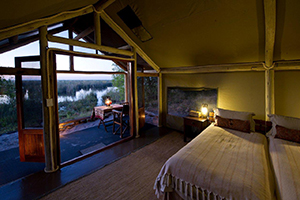 Depart by light aircraft to the northern Chobe region of Chobe National Park. This area is famous for its large herds of elephants and other unique species such as the elusive puku and Chobe bushbuck that move to the Chobe River over the midday period. Enjoy a boat cruise (and lunch) on a catamaran-style shaded boat before departing by light aircraft for the private Linyanti Concession adjoining the Chobe National Park. From the airstrip it is a short game-drive transfer to a private Explorer Campsite. Camp is elegantly set up under massive African ebony and knobthorn acacia trees overlooking panoramic vistas of the Linyanti Swamps.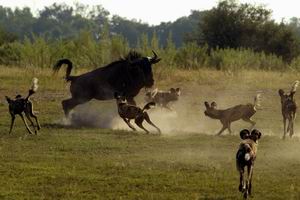 The landscape changes from the Okavango's floodplains to savannah habitat and riverine forest, creating a paradise for a high diversity of wildlife and bird species. The area is home to a variety of plains game as well as all of Botswana's major predators, including lion, leopard, cheetah, and the endangered wild dog. The first afternoon activity highlights the range of habitats in the northern sector of the concession, focusing on the riverine habitat of the Linyanti and its surrounding forest and bushveld.
Day two starts with a morning game drive to a private viewing deck where lunch is followed by a siesta in hammocks. In the afternoon we canoe the Linyanti River (hippos permitting!) for close encounters with animals coming to drink, before taking an evening drive back to camp. On day three, depending on game movement patterns, we might enjoy a full day activity to the Savuti Channel, with lunch at a private hide overlooking a waterhole.
Days 5, 6, & 7: Okavango Delta (Khwai Discoverer Camp)
Depart by light aircraft to Khwai Discoverer Camp, located on a private concession adjoining the Moremi Game Reserve. The Khwai Concession is one of the most diverse areas in northern Botswana, and features a wide range of exciting wildlife habitats from forests and floodplains, to wetlands and grasslands. The narrow Khwai Channel is home to large mammals such as hippo and crocodile with buffalo and red lechwe often seen grazing along the fringe. The beautiful riverine woodland found along the river provides further sanctuary to birds, primates and leopard. Activities focus around day and night game drives, nature walks and seasonal mekoro excursions. Away from the river there is a wonderful mix of acacia and leadwood trees of varying sizes leading into mopane woodland. The latter, together with the permanent presence of water, attracts large numbers of elephant to the area. Larger predators include lion, wild dog and spotted hyaena, while birdlife found here is just as varied thanks to the wide range of habitats.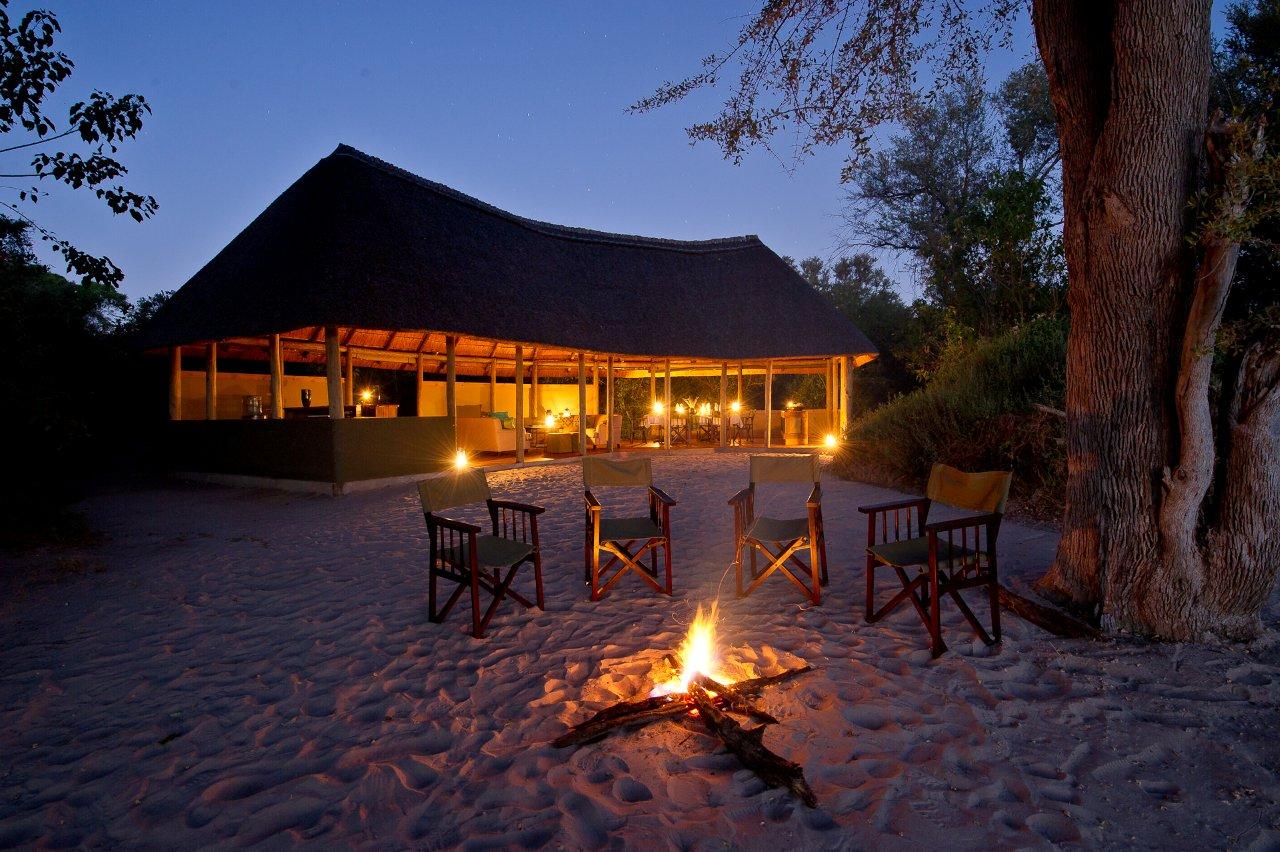 Accommodation at Khwai Discoverer Camp is in large walk-in Meru-style tents . The beautifully designed tents re-create the early explorer style of accommodation, with a veranda and an en-suite bathroom area (with plubming and including flush loo, shower, basin, and mirror). Furnishings include leather and teak director chairs, separate bedside tables with 12v reading lamps, canvas hanging wardrobes, bathrobes, and comfortable beds. All amenities (conditioning shampoo, soap, shower gel and body lotion) are elegantly displayed for use. The evening camp is lit by paraffin lanterns and a good campfire. Delicious meals are prepared by the safari staff on a campfire, adding to the atmosphere of adventure. Dining is often under the stars, although a bush dining tent with a fully stocked bar and library is also erected.
Days 8, 9, & 10: Okavango Delta (Jacana Camp)
Depart by light aircraft to Jacana Camp, located in a permanently flooded region of the Okavango Delta.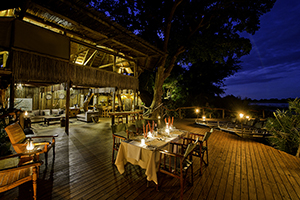 Situated on the Jao flats, just outside the Moremi Game Reserve, Jacana Camp is a water-oriented camp that offers mokoro and walking safaris all year round. The camp is set in one of the most densely populated wetland areas for Sitatunga and Red Lechwe. All the big game can be found in the area - including elephant, lion, leopard, giraffe, and buffalo - but game concentrations depend on the flow of the water, and the highlight at this camp is an in-depth exploration of the natural beauty and ecological diversity of the Delta. Birdlife is prolific, with Pels Fishing Owl and Jacanas being favorites amongst birders.
Day 11: End of Safari
Bid farewell to the adventure as you transfer by light aircraft to Maun Airport.
| | | |
| --- | --- | --- |
| | | |
| Tent Interior | | Dining in the Delta |
Dates and Rates 2014
* Tour codes with (E/G) represent tours that will be conducted in English and German.

| | | | | | |
| --- | --- | --- | --- | --- | --- |
| Tour Code | Dept Date | Dept Day | Finish Date | Finish Day | US$ Price |
| SZ01 | 31 Mar | Mon | 10 Apr | Thurs | US$9,359 |
| SZ02 | 12 Apr | Sat | 22 Apr | Tues | US$9,359 |
| SZ03 | 03 May | Sat | 13 May | Tues | US$9,359 |
| SZ04 | 21 May | Wed | 31 May | Sat | US$9,359 |
| SZ05 | 27 May | Tues | 06 Jun | Fri | US$9,359 |
| SZ06 | 05 Jun | Thurs | 15 Jun | Sun | US$9,800 |
| SZ07 | 11 Jun | Wed | 21 Jun | Sat | US$9,800 |
| SZ08 | 26 Jun | Thurs | 06 Jul | Sun | US$9,800 |
| SZ09 | 14 Jul | Mon | 24 Jul | Thurs | US$9,800 |
| SZ10 | 17 Jul | Thurs | 27 Jul | Sun | US$9,800 |
| SZ11 | 20 Jul | Sun | 30 Jul | Wed | US$9,800 |
| SZ12 | 26 Jul | Sat | 05 Aug | Tues | US$9,800 |
| SZ13 | 01 Aug | Fri | 11 Aug | Mon | US$9,800 |
| SZ14 | 07 Aug | Thurs | 17 Aug | Sun | US$9,800 |
| SZ15 | 19 Aug | Tues | 29 Aug | Fri | US$9,800 |
| SZ16 | 25 Aug | Mon | 04 Sep | Thurs | US$9,800 |
| SZ17 | 03 Sep | Wed | 13 Sep | Sat | US$9,800 |
| SZ18 | 12 Sep | Fri | 22 Sep | Mon | US$9,800 |
| SZ19 | 18 Sep | Thurs | 28 Sep | Sun | US$9,800 |
| SZ20 | 03 Oct | Fri | 13 Oct | Mon | US$9,800 |
| SZ21 | 06 Oct | Mon | 16 Oct | Thurs | US$9,800 |
| SZ22 | 18 Oct | Sat | 28 Oct | Tues | US$9,800 |
| SZ23 | 02 Nov | Sun | 12 Nov | Wed | US$9,359 |
| SZ24 | 05 Nov | Wed | 15 Nov | Sat | US$9,359 |
| SZ25 | 14 Nov | Fri | 24 Nov | Mon | US$9,359 |
* Single Supplement - U$520 per person subject to availability of accommodation (from June 1st to October 31st, the single supplement is U$570). If a guest is willing to share and we can match with another guest of the same sex, the single supplement will not be charged. However, if there is no suitable match, we will have to charge the single supplement.

* Group Size - Minimum two guests, maximum eight.

* Age Limits - There is a minimum age limit of 12 years for all scheduled departures. A medical certificate of full health is required for guests over the age of 75 years.

INCLUDED
Accommodation on a sharing basis, all meals and drinks (except premium brands), all excursions related to the safari, services of a guide, all park fees, laundry (except at Toka Leya), all internal charters and transfers as described in the itinerary on a seat-rate basis (including current fuel surcharges).
NOT INCLUDED
Scheduled flights to and from the starting and finishing points of the safari, visas, compulsory travel insurance, all relevant entry and departure taxes (Zambian visa fee - currently $30 per person for a single entry or $50 per person for a double entry visa, and $30 Zambian departure tax), gratuities, optional extra activities, all personal purchases (incl. curios, telephone calls, etc), pre and post safari accommodation, meals, or tours.
Let us help you plan your dream safari. call toll-free: 888.227.8311

or

email us

today

|

|

Share